RØDECaster Pro – UPDATED!!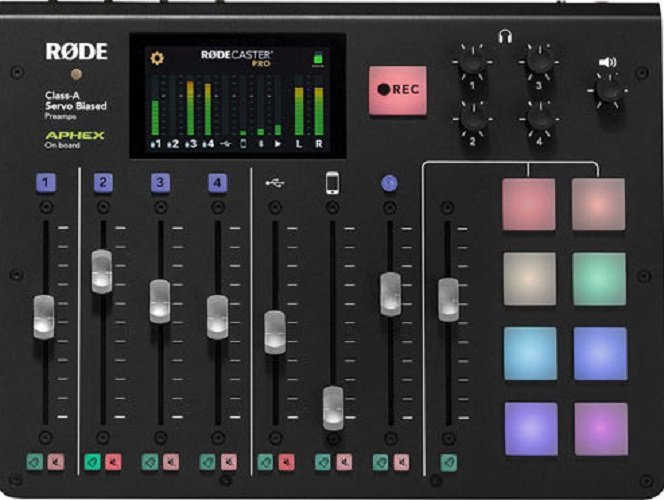 The RØDECaster™ Pro is the world's first fully integrated podcast production studio. Whether you are just starting out, or are a seasoned broadcast professional, the RØDECaster Pro Podcast Production Studio is all you will ever need. This is a very cool piece of gear… you have several options for your Podcast depending on your needs.
If you are a solo person show, this is not needed but still could be a great addition to your arsenal. If you plan to have guests – this is going to be an indispensable tool and here is why:
It has four XLR inputs for up to four total in studio personalities as well as USB in, Phone in and Bluetooth in! It is also a standalone unit – meaning plug it into power, plug in your mics and go – no computer necessary as it also records to micro SD if on the go! My dilemma was – purchase some mics, some type of USB interface (solo XLR inputs start at around $50 and 4 or more inputs start around $300 and go WAY up from there), carry a computer and / or integrate a portable recorder. In the end, the costs are comparable but this is the solution for me. It may be a few extra dollars up front, but it becomes insignificant as you receive such a polished solution in the RØDECaster Pro. I will update the post once mine is delivered and I get it all set up. Merry Christmas to me!
While you're at it, grab a nice set of road mics for your mobile studio! Behringer sells XM1800s dynamic microphones at $60 for a set of 3 really decent sounding microphones! Don't forget to get some micro SD memory to your order so that you can record directly to your RØDECaster Pro without being tethered to your computer!
An update to my posting on the RØDECaster Pro! After having the RØDECaster Pro now for a couple of weeks, I must tell you that I am completely ecstatic to own this hardware. While my podcast is still only in its infancy, I do understand good sound, audio processing and production & this thing is the most amazing addition to my little home studio. The engineers at RØDE really thought the whole product out perfectly – the packaging, inputs, outputs, interfaces, compatible software products, for simplicity of use, and even the laminated cards to map the buttons for multiple podcasts. My daughter did a little unboxing video for me which I will be posting to my YouTube feed.. click on the "Watch" tab to see that. If you would like to hear some sample audio – check out my short podcast (This Crazy Ride – Episode 3) where my son and I do a sample audio output from the RØDECaster Pro. The only edits made to the audio for that podcast were 1.Normalizing the track in Audacity and 2. Conversion to .mp3 in Audacity to upload to my hosting site at Anchor.fm. I was using a RØDE PodMic and my son was using a Behringer XM1800s and the podcast was unscripted and recorded without changing many settings out of the box. I plan to use this daily for production, and feel it is worth every penny. There is so much more I want to tell you about this product – I am going to do a full video / podcast coming up very soon! Oh, one last thing.. I had some questions about a promotional accessory pack offered by RØDE and the customer service was second to none – Highly recommended!! Thanks for dropping by!