Microphone showdown – unbiased opinions on Podcast mic setups!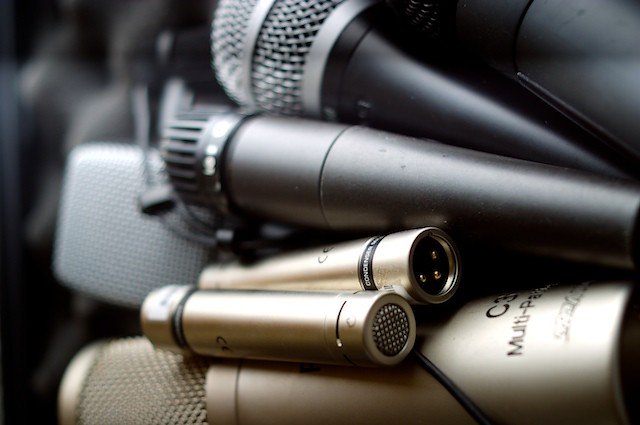 Are you ever skeptical when watching a YouTube video comparing microphones when the sound quality of the production is sub-par? How about when the comparison criteria is skewed in favor of a mic that the host is clearly promoting? Here is my unbiased opinion on all of the microphones that I have actually tried myself – no speculation about any others. I am not being sponsored by anyone, nor am I swayed by anything other than what my ears hear when listening to the recordings. My requirements may differ from yours… I have started a small podcast and have set up / purchased my gear so that I can have a host and up to three in studio guests as well as remote guests simultaneously. I watched many many hours of videos and listened to countless hours of podcasts in researching what I needed to get my stream going. My findings are documented below from best to worst in my own opinion.
RØDE PodMic – Mid-Range XLR Dynamic microphone engineered and tuned specifically with podcasting in mind. I purchased this microphone for one reason – I wanted to be able to have in studio guests! I was completely fine using my kids' Blue Snowball until I tried this bad boy out. I immediately noticed a huge difference in audio fullness, a decrease in background noise, less of my own breathing captured while recording, and just a cleaner recording. The PodMic is priced lower than both the Blue YetiCaster and the Samson G-Track at around $129, but is not as readily available for purchase. Since this is an XLR microphone, a USB interface will be required and that is an extra expense. I first purchased a Behringer U-Phoria UM2 interface which could process 2 input signals, but quickly upgraded to a RØDECaster Pro (Awesome!!). Pros: Build quality is excellent, price point is pretty decent, tuned to voice applications, built in pop filter and internal shockmount, and since it is a Dynamic mic – less background noise is captured. Cons: No on/off switch, XLR cables and Interface required
Behringer UltraVoice XM1800S – Entry level Dynamic XLR microphones. I purchased mine as a set of three for $60 and they came in a box with mic mount and 3/8 to 5/8 adapters. I purchased these as I was not able to afford an extra 3 RØDE PodMics for in studio guests, but I am NOT disappointed in my purchase. These are some excellent sounding microphones and a bargain at 3 for $60. They are a little deeper sounding than the PodMic and maybe a little more sensitive as well. No problems though, turn the gain just a fraction lower and they sound just as amazing as the PodMic. I will get a lot of miles out of these before the need to upgrade. Pros: Build quality is excellent, inexpensive and a great value, wide frequency range, On/Off switch on microphone body, and since it is a Dynamic mic – less background noise is captured, though a little more sensitive than other dynamic mics. Cons: XLR cables and Interface required, classic design – not as modern as other mics targeting podcast producers.
Blue Snowball – Entry level USB microphone which sounds great and is awesome for a quiet recording environment where only 1 microphone is being utilized! This was the 2nd mic that I purchased (for my kids) and ended up using it quite a bit. This mic was a little kinder to my voice – it did not pick up as many hard "esses" as the Blue YetiCaster. The price point is also pretty low at about $59 where I live in Canada. Pros: Fairly low price, readily available, simple plug and play USB only operation, rich sound quality, great for solo applications in a quiet environment, great mounting options. Cons: USB only operation (Only good for situations where only one microphone is required – this is one of the big negatives for me. I am an advanced computer operator and it is quite an ordeal to get more than 1 USB microphone to work simultaneously for podcasting.)
Blue YetiCaster – Mid-range USB only condenser microphone aimed at streamers and podcasters. I purchased the broadcast studio bundle and it was not exactly cheap – priced somewhere around $240 on sale last year. The build quality and finish is very impressive and I found myself just staring at it for no reason. The Compass boom arm and Radius shock mount are of amazing quality and the channel to hide the cable is a super-nice and thoughtful design tweak. I used mine to make many videos and a load of sample podcasts, but maybe I just never found the sweet spot with all of the possible adjustments. I feel the sound quality is very good, but was a little too sensitive for my applications in my noisy studio environment. Pros: Simple plug and play USB only operation, high build quality and looks great, multiple pick-up patterns, excellent sound quality when used in the correct environment. Cons: Price is a little high, very sensitive – unkind to my voice (made me want to hire a speech therapist to deal with my HARD "esses", need a quiet recording environment and, as with the Blue Snowball – USB, so only great when only one mic is required.
***** Please note… whichever microphone I have chosen to use over the past 2 years – if I am sitting at my desk, my microphone of choice is attached to this boom arm. The mic is OK quality and value… but this boom arm (the blue compass) is invaluable! *****
Samson G-Track – Mid range USB only condenser microphone with onboard mixing controls. I purchased this one while I was on the road and needed to make some recordings. My honest take on this mic is that is not tuned for voice like the Blue microphones. I spent several hours trying to make it sound decent for voice only applications, but in the end – I tossed most of the audio I recorded with this microphone. It sounded like i was ten feet back from the microphone unless the gain was cranked to greater than 75%, and then an awful hum became a part of the audio track. Pros: Advanced controls, nice build quality, Plug and play ease of use, built in audio interface. Cons: Hollow, distant recordings for voice tracks, too heavy for light duty boom arms, Price is high for what you get!